Carolyn Heizer – Assistant Director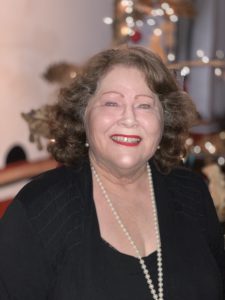 Carolyn Ince Heizer has been a member of the Beeville Community Chorus for
over 20 years. She was the Assistant Director several years ago and then began
again in 2017. Carolyn attended Del Mar College in Corpus Christi as a music major with an emphasis on voice. She graduated from Texas A&M in Kingsville with a degree in
music, all level and, although she has never used it, she has a teaching certificate
in elementary education.
Carolyn began her teaching career at Victoria High School as the Assistant Choir
Director then taught choir and band at St. Joseph High School in Victoria.
After moving to Beeville, Carolyn taught at AC Jones High School and Moreno
Junior High and later taught at Hampton-Moreno- Dugat Early Childhood Center,
Thomas Jefferson Intermediate School, and R.A. Hall Elementary. Carolyn retired
from BISD in 2016.
Carolyn has directed hand bells in Three Rivers and in Beeville and currently plays
hand bells with the 1st Presbyterian Church.
Carolyn is married to John and has three grown children – Sharon, Stacey and
David.
Dr. James Lee – Artistic Director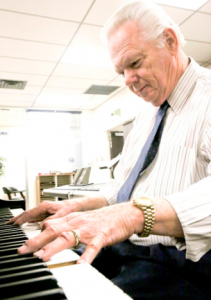 Dr. James Lee has been a teacher and administrator of music education for over fifty years and has taught all age levels kindergarten through college/university. He received his undergraduate degree in music education from the University of North Texas in Denton, Texas and his graduate degrees from Texas A&M, Commerce, Texas. Dr. Lee has held positions as Director of Choral Music in the Mesquite public school district, Mesquite, Texas, Supervisor of Vocal Music grades K-12 and high school choral director in the Texas City public school district, Head of the Voice Department and Director of Choral Activities at Northwestern Oklahoma State University, Alva, Oklahoma, and Chairman of the Performing Arts Division at Coastal Bend College, Beeville, Texas. He has taught music (K-8) at St. Mary's Academy in Beeville, Texas, and is currently the Artistic Director of the Beeville Community Chorus, Director of Music at the First Christian Church (Disciples of Christ) in Beeville, Texas, and has taught as an adjunct professor of music  at Texas A&M – Corpus Christi and Texas A & M Kingsville. Dr. Lee is also the Director of Choral Events and Tours for All World Travel and Tours, a Texas based Travel Company in Allen, Texas. His choral groups have performed in the Morman Tabernacle in Salt Lake City, University of British Columbia, Vancouver, Canada, the famous Smetana Hall, Prague Czech Republic, Carnegie Hall in New York City, St. Patrick's Cathedral, Dublin, Ireland and the Vatican in Rome, Italy.
Dr. Lee has been very active in a number of state music organizations and has served on state curriculum committees in Texas and Oklahoma. He is currently the Executive Secretary/Treasurer for the Texas Two Year College Choral Directors Association and the Executive Director of the Texas Association of Music Schools. Dr. Lee has given presentations at state conferences and conventions and has a number of research studies and articles on various topics of music education published by the Texas Association of Music Schools, Texas Music Educators Association, and the Texas Music Educators Conference. He is a member of the American Choral Directors Association, Texas Choral Directors Association, Texas Two Year College Choral Directors Association, and is an honorary member of the Coastal Plains Music Teachers Association. He is also on the board of directors and chair of the events committee of the Hall-Rialto Preservation Association, a community based organization working to restore the Rialto Theater in downtown Beeville.
---
Executive Board 2020-2022
President – Jack Meyers
Immediate Past President — Rose Skaife
President-Elect –
Secretary – Mary Williams
Treasurer – Sally Friedlander
Librarian – Donna Davis
Asst. Librarian – Dr. James Lee
PR/Communications – Virginia Dominguez
Asst. PR/Communications – Donna Davis
Historian – Cindy Hilliard
Accompanist – Judy Hendrick
Artistic Director – Dr. James Lee
Asst. Director – Carolyn Heizer