Beeville Community Chorus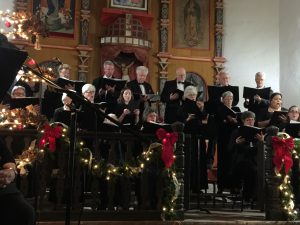 Love music? Us too! Please feel free to browse our site or send us a message for more information on the choir. Rehearsals are every Tuesday evening, 7 PM, Fall-Spring at Coastal Bend College. We would love to have you join – hope to see you soon!
---
Plato once said that, "Music gives a soul to the universe, wings to the mind, flight to the imagination, and life to everything." That is what we aspire to do in the Beeville Community Chorus. Music is our passion, what we love to do with our free time, and what we want to share with others. We want to bring that soul, imagination, and life to our community. We want those who hear us sing to forget what is going on in the world, and enjoy the moment. If we have made you smile, we know our mission is complete.
---